The relaunch of NOAS Washbasin CARE is now underway, which after just one week turns out to be highly appreciated by both interior designers, buyers and architects. We get really good response, which we are very happy about.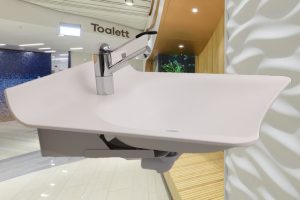 The washbasin is made in the material Corian® Solid Surface, like our other products in the brand NOAS Sweden. The material is nontoxic, porefree and is extremely durable. We have chosen the color Glacier White when relaunching NOAS Washbasin CARE because our other products are available in this color. When ordering, you can choose from a variety of colors. The choice is yours.
Why NOAS WASHBASIN CARE?
The washbasin design makes it easy to use in places such as Disabled Toilets, school, nursing homes, senior living, restaurants, hotels, gas stations, public toilets and even private homes. The users are both adults as children, seated/wheelchair-bound as standing. In summary, a washbasin/sink for everyone's needs.
With its round and nice shapes, it gives a warm impression. The washbasin meets the requirements for accessibility, function, hygiene, sustainability and where you think circularly. Like our other products in Solid Surface, it's easy to clean, maintain, and renew.